Finally A Program That Works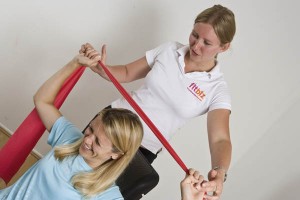 Personal Training with Fitbiz is about getting to where you want to be. Maybe you want to get into the best shape of your life, improve your confidence, feel more inspired to get going in the mornings, or just find a plan that you can stick to for the rest of your life?
We will work with you help you achieve your goals, taking into account everything that makes you you. If you hate running, there's no point in designing you a program which makes you run every day; the only program which will work for you is the one which you can do.
Good nutrition does not mean starving yourself; and exercise doesn't have to be boring. We'll show you the right exercises, and guide you in implementing easy and realistic changes to your diet that will lead to optimum health, fitness and vitality. We'll also discover your Bio-Type.
Our exclusive goal setting process is hugely inspiring and will keep you on the right road throughout your journey – in fact, those who follow the goal setting process are seven times more likely to achieve their goals!
You'll see results quicker than you expect, and you'll find you can keep them forever. Have a look at our testimonials, then:
Book Your FREE Consultation Today! >